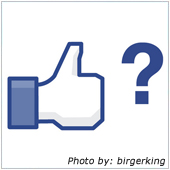 Have you checked out your business's online reputation lately? What you don't know can hurt you! But with a little time and effort, you can take steps to manage your reputation online and use it to grow your business.
Reputation is important to all businesses. If your business does not have a good reputation, it's almost certain that you are scaring away customers. In the past it was easy to judge the reputation of your business: all you had to do was ask the local population what they thought. With the advent of the Internet and, more specifically, social media, your reputation has gone online, and is easily observed and influenced by many millions.
Your online reputation can be tricky to measure and manage, but it can be done effectively. Here are some tips for getting started.
Be Aware of Your Internet Presence
Many companies have pages on Facebook, LinkedIn, Twitter, and more. The only problem is that they don't spend time maintaining them. It's a well known fact that when a customer wants to find information on your company, they are not going to call you. They will Google you, or check you out on Facebook, Linkedin, or another social media outlet. It's important that you know exactly where and how your business appears on these websites.
How to Assess Your Presence
It's a good idea to do a web search using keywords pertaining to your business on the major search engines. Simply enter these keywords into the search engine:
Your name
Your company's name
Your main product or service
High profile employees, past and present
User names
Record the results of each search. It's important to look for the number of negative responses, indifferent responses, and responses in which your company is not mentioned. If you have a large number of negative responses, especially in the top results, you need to work on improving your reputation. If you have lots of results with no information, it's time to start getting your name out there.
When searching, take note: Due to the increasing personalization of search engines it's best to log out of all your accounts, and turn off personalized search. When searching for your company, the majority of users will enter a keyword and normally only look at the first few pages of results, so be sure to review the first three pages of your search results.
Protect yourself
You may have the Social Media side covered, but what about your URL? Be sure to buy not only the direct URL of your company's name, but also any related URLs for your company. For example, if your company has a unique product, buy the URL under that name. This is important not only in helping people find you, but also in preventing a disgruntled customer or employee from buying a similar URL and creating a website to slander you and damage your reputation.
Be Proactive With Your Presence
It's important that once you know your reputation, you are proactive about monitoring and improving it. This doesn't mean you need to spend hours each week searching for your company online. Tools such as Google Alerts help you automatically track result changes based on keywords, and website such as Technorati allow you to quickly search for keywords across many blogs and set up alerts for new mentions.
You should also be involved in industry blogs, monitoring them regularly and becoming part of the "conversation" in your industry. Try to establish a strong presence in your industry by showing how knowledgeable you are. You can also encourage employees to share company news and act as brand ambassadors by empowering them to be open with their thoughts on the company. With careful management, they can be a powerful brand tool.
Be Accountable
If you come across negative reviews or posts about your company, consider objectively what is being said. While some people are simply out there to harm the company, many others will be more than willing to discuss what you have done wrong, or at least provide some feedback. It's also a good idea to be proactive and set up a FAQ section on your website that covers the most commonly asked questions as well as negative issues, such as: "What do I do if I am unhappy with my product or service?"
Use a Social Media Management Company
Small business owners like yourself may not have the time to manage your reputation effectively, or the money to hire a full-time staff member to manage it for you. What you can do is to work with a company that specializes in reputation management, allowing you to concentrate on your business. Online Reputation Management has become big business, and will continue to be a major trend in 2012 and beyond.
It's important to keep up with your reputation management because the success of your company is directly affected by it. There are many ways to improve and manage your reputation, but positive changes won't happen overnight. If you have questions about reputation management and would like to learn more, please contact us.
Published with permission from TechAdvisory.org.
Source.